News and Goings On
Monday, December 3, 2007
S&F contributor Brendan Lott is in a group show called "SupaStore" at Elizabeth Paige Smith in Venice, CA opening on December 7. And Following that, opening January 19th he will have a solo show called "Memories I'll Never Have" in the same gallery.
Wednesday, October 3, 2007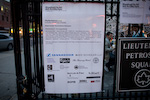 Smyles & Fish, in a consortium with BOMB, Open City, Cabinet, Tin House, Mr. Beller's Neighborhood, Guernica, KGB Barlit, and New Directions, participated as co-sponsor for the 25th anniversary celebration of the Storefront for Art and Architecture.
Storefront commemorated its anniversary in a 26-day festival of art entitled Performance Z-A from September 21st to October 16th. The events took place under the Ring Dome, a temporary pavilion erected in Petrosino Park at the intersection of Kenmare Street and Lafayette Street in Soho, NYC. The Ring Dome, an edifice constructed from 1,000 hula-hoops, was designed by Korean architect Minsuk Cho especially for Storefront.
On the evening of October 3rd, 2007, novelist and art critic Frederic Tuten hosted three writers who have written about or who themselves make art: Shelley Jackson, the author of Half-Life and The Melancholy of Anatomy; Wayne Koestenbaum, whose most recent book, Hotel Theory, is a hybrid of fiction and nonfiction; and Iris Smyles, a writer, cartoonist, and editor of Smyles & Fish.
Photos by Mike Solomon
Tuesday, September 18, 2007
"Darryl is fresh out of the joint and looking to stay out of trouble. Leo has double-crossed the wrong Walrus. Cult-movie trappings collide with post-modern absurdism in NATURE OF THE BEAST, an energetic, wildly hilarious short starring Rob Delaney and Andy Samberg of Saturday Night Live (Lazy Sunday / D**k in a Box) fame."

CHECK OUT THE TRAILER:
www.myspace.com/natepommer


The most recent film of S&F contributor Nate Pommer will be screened on the following two occasions:

SATURDAY, SEPT 29th, 2PM
THE 2007 CONEY ISLAND FILM FESTIVAL (at Sideshows By The Seashore and The Coney Island Museum @ Coney Island)
www.coneyislandfilmfestival.com


SUNDAY, OCT 7th, 7:30pm
THE 2007 EVIL CITY FILM FEST (at Anthology Film Archives, East Village, 2nd Ave & 2nd Street)
www.evilcityfilmfest.com
Monday, January 29th, 2007
On Tuesday January 30th and Wednesday January 31st, S&F friends Jonathan Ames and Patrick Bucklew, aka, "the Mangina" will be performing live in "The Jonathan Ames Show" at Mo Pitkins, 34 Avenue A (between 2nd and 3rd), at 11 pm.

For tickets go to www.ticketweb.com and search "Jonathan Ames" or you can buy tickets the night of the show. For more details about Mo's go to www.mopitkins.com.

This edition of "The Jonathan Ames Show" will feature: Zero Boy, Alien Comic, Jessica Delfino, Ula The Painproof Rubber Girl, and Miss Saturn, with a likely guest appearance by Moby.

Mr. Ames will tell a story, interview audience members, have a pillow-fight with audience members (pillows and swimming goggles provided), and will gently paddle audience members. All participating audience members will, naturally, be willing volunteers.

Patrick ("the Mangina") Bucklew will wrestle Michelle ("the blind woman") Leona on Tuesday night and a sighted woman the second night. He lost to Michelle back in November and is really hoping to win this time.
Wednesday, January 17th, 2007
Smyles & Fish contributor George Spielvogel will be playing the role of Gary Busey in the second season run of Point Break Live! opening this Thursday, January 25th, at La Tea Theatre, 107 Suffolk Street, NYC, and running through February 24th.

For Tickets and information visit:
http://www.theatermania.com/ticketing/index.cfm/show/128881
or call: 212.228.1096
Wednesday, January 17th, 2007
S&F contributor Matt Nichols will be performing classical guitar live this Saturday, January 20th at 8:00 PM at The Monkey, 37 W 26th Street, NYC.

Monday, January 15th, 2007
S&F contributor Nick Weber will be performing live with his band The Trousers this Tuesday, January 16th at 8:00 PM at the Mercury Lounge, 215 E Houston Street, NYC.

The Trousers features: Tom O'Brien, Jared Eglowsky, Nick Weber, Brennan Gildersleeve & Tika Sumpter.
Tuesday, January 2nd, 2007
Smyles & Fish embraces the metric system, distributes chamometer tea to Break Rooms A and B.
Thursday, December 28th, 2006
Smyles & Fish harkens back tu a tyme befour standerdyzed spelling.
Sunday, December 24th, 2006
Smyles & Fish Community Outreach Department fires Ghost of Christmas Past to hire Ghost of 'Holiday' Past in preparation for upcoming polyfaith celebration scheduled after erection ceremony of the festive new S&F Obelisk, to stand at intersection of Building One and Building Three.
Saturday, December 16th, 2006
Smyles & Fish announces the construction of an ark. Will choose one male and one female from every department to participate in upcoming seafaring expedition planned in direct response to flood alerts received recently by unnamed source. Applications available in West Lobby.
Monday, November 27th, 2006
JOB'S PASSION, a play by Hanoch Levin and translated from the Hebrew by Smyles & Fish contributor Shay Azoulay, is being performed at The Theater for the New City, Thursday, November 30 - Sunday, December 2.

Read the review in the New York Times here.

The Theater for the New City
155 First Avenue (btw 9th and 10th streets)
Thursday, Friday and Saturday at 8pm, Sunday matinee at 3pm
All Seats: $20/TDF Vouchers Accepted
For tickets call (212) 254-1109 or go online at http://www.theaterforthenewcity.net
Saturday, November 18th, 2006
On November 13th the Smyles & Fish launch party was held at Strand Bookstore, NYC. Despite rain and stormy skies people came out for the celebration filling every seat and aisle of Strand.

Authors Ron Hogan, Paul LaFarge, Frederic Tuten, Theo Gangi, and Mike Otterman mixed with the audience as well as Fiction magazine founder and novelist Mark Mirsky, poet Thomas Hummel, painter Nick Weber, and Shredded Poets bassist Jonathan Kemp who all donned their best threads for the affair.

Smith editor Larry Smith, playwright Steve Danziger, acclaimed translator Shay Azoulay, comedian George Spielvogel, filmmaker Nick Regalbuto, Z100's Whitney Leipzig, and author and critic Harold Veeser were on hand for the festivities.

Fractious Press founder Veronica Liu, Sic Magazine editor Michael Troncale, DownTown columnist David Crohn, Poet and The One Three Eight editor Gregory Crosby, photographer Chris Stein, The Literary Review editor and poet Mariya Gusev, and Strand owner Nancy Bass raised a glass with us to celebrate the launch of our first Pocket Edition.

See more photos here.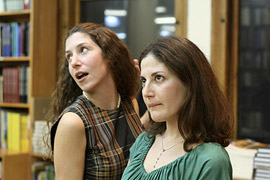 Co-founders Iris Smyles and Sharon Fishfeld sigh.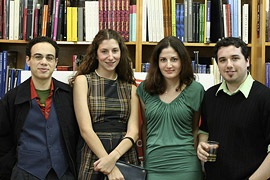 S&F Web Engineer Mark Angelillo, Iris Smyles, Sharon Fishfeld and S&F Graphic Designer Mike Solomon have an alibi.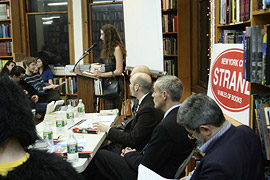 Iris Smyles introduces authors and artists Jonathan Ames, Neil Swaab, Mike Topp, and Arthur Nersesian.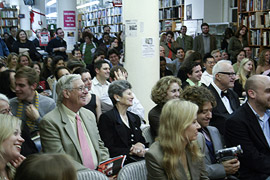 The Strand - home to 18 miles of people! (Tear gas is released into the crowd.)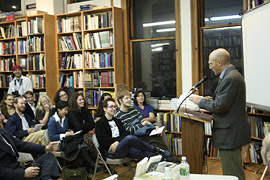 Jonathan Ames reads "I Shit My Pants in the South of France."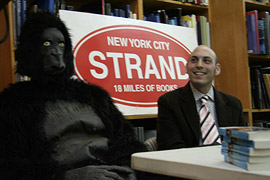 Neil Swaab, who later read a monologue adapted from his comic Rehabilitating Mr. Wiggles, shows his teeth.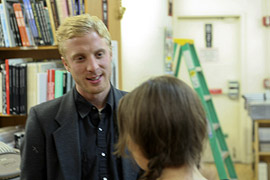 Nate Pommer addresses an audience member after screening his new film The Nature of the Beast starring actors Rob Delaney of I Heart Huckabees and Andy Samburg of Saturday Night Live to a delighted crowd.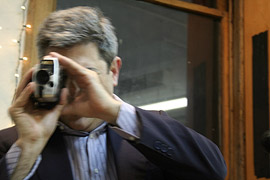 Arthur Nersesian photographs two people fingering each other in the stacks, before discussing his collection of plays, East Village Tetralogy.
####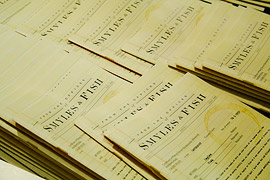 Issues of the very first Smyles & Fish Pocket Edition went on sale.
####
Monday, October 23rd, 2006
On Weds, November 1st, the novelists Paul La Farge and Frederic Tuten (a Smyles & Fish Pocket Edition contributor) will have a discussion and reading centering around Herge's wonderful creation Tintin in celebration of the 100th Anniversary. La Farge's essay--introduction to the reprint edition of Tuten's novel "Tintin In the New World" was published in The Believer and may be found here.

Weds, November 1st
Barnes and Noble
4 Astor Place
N Y NY 10003
2nd Floor
7pm

Sunday, October 8th, 2006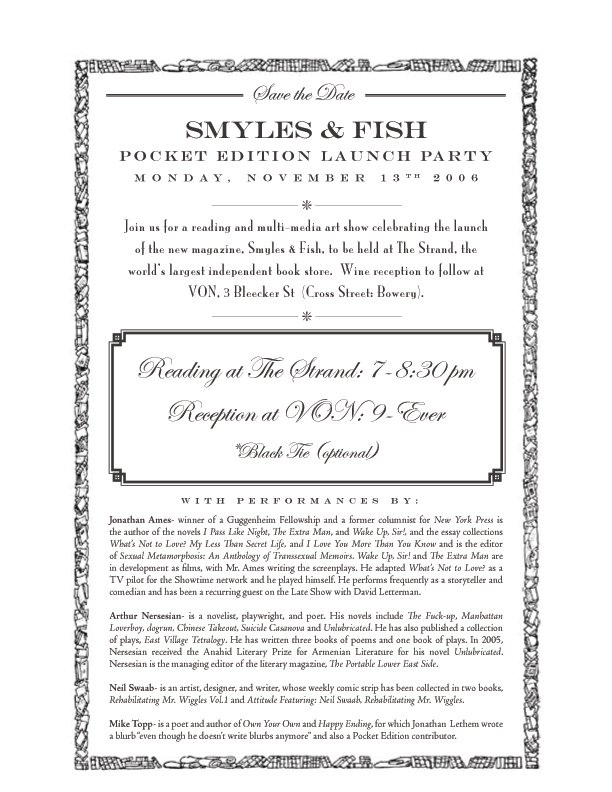 Wednesday, October 4th, 2006
Due to increased interest in the Thursday Afternoon West Fountain Bathing Club the West Fountain will be furnished with fluffy towels. Please return all used fluffy towels to the Reception Desk by Friday morning, 11AM.
Monday, October 2nd, 2006
Smyles & Fish notices a hint of lemon.
Monday, September 25th, 2006
Smyles & Fish stumbles upon a Nether-Internet, the so-called "World Wide Web of Lies".
Friday, September 22nd, 2006
Suicide Attempt at S & F Salad Bar (South Cafeteria, Building 7)

Bryan Dewitt (3rd Floor, Sales) was found just in time yesterday after having eaten a potentially lethal dose of spinach in the S&F South Cafeteria. Apparently, after losing his balance on a spill of Dijon, he hit his head on the sneeze guard, the blow rendering him unconscious long enough for a crowd to gather. Gil Svenson (7th Floor, Marketing) was the first to arrive on the scene and found a note Dewitt left next to the shredded carrots--what appears to be a suicide letter:

Why I ate Spinach to Die:
By Bryan Dewitt

-Sally (12th Floor, Filing) left me.
-Tax refund $200 less than expected.
-I simply can't get the eggs to wrap completely around the filling. It always breaks halfway through.
-Ever since McPiggles left...
-Shower never hot enough in morning.
-I can't afford sleeping pills on my shitty health plan. Thanks again, Smyles & Fish!
-Postage stamp price hike... Again!
-Can't take Bono anymore. It's Zoo TV or me!
-Remember our song, Sally. Sing it when I'm gone: "I just died in your arms tonight. Must have been something I *ate*."
-Can't find 11 3/4" attachment to socket wrench set anywhere.
-Collecting on that dare is gonna be so sweet! (Seeing Gil's face when I...)
-Spinach is all-you-can-eat in S&F cafeteria, and with my paltry wages, it was the only way to do it.
-S&F bigwigs won't advertise on my blog.

Tuesday, September 19th, 2006
Smyles & Fish Air Gondola temporarily inoperable. Please use Smyles & Fish Zip Line for rapid transit between North and South Towers.
Monday, September 18th, 2006
Interdepartment Swirley Competition Rule Correction: 12 points for someone from Marketing and 7 points for a janitor, not vice versa.
Friday, September 15th, 2006
Reminder: Employees are required to carry their teddy bear hall passes at all times.
Thursday, September 14th, 2006
Smyles & Fish hosts fundraiser. Hotcakes sell poorly.
Thursday, August 31th, 2006
The Smyles & Fish Football Team Mascot, Mr. McPiggles, has escaped from his pen. He was last seen at a Denny's on the outskirts of S&F City. Any information about his whereabouts should be forwarded to wheresmcpiggles@smylesandfish.com.
Wednesday, August 30th, 2006
Top top top Executives hold Power Debate in Yellow Bubble Cafeteria (West): "Comma vs. Question Mark". Results available at Yellow Bubble Cafeteria (East) Condiment Stand.
Thursday, August 24th, 2006
Board of Directors holds conference in Health Club: "Is Pan-Theology Anything Like Pan Pizza?"
Thursday, August 10th, 2006
Bear tired of carrying Smyles & Fish annex office.

Tuesday, August 8th, 2006
Smyles & Fish caned in Parking Lot A this afternoon in delayed response to Sunday's Wave Pool incident. Medical reports suggest minimal physical injury, though psychological repercussions are yet to be determined.
Monday, August 7th, 2006
CEO Smyles loses to CEO Fish in close primary bid for a seat in the West Pool Lifeguard Chair.
Tuesday, August 1st, 2006
Smyles & Fish suffers back stroke in community swimming pool.
Monday, July 17th, 2006
Stretch McTone pulls ligament in elbow practicing for the Paper Plate Toss- an unlisted event he's been campaigning to be included in this Saturday's First Annual Summer Olympiad.
Monday, July 10th, 2006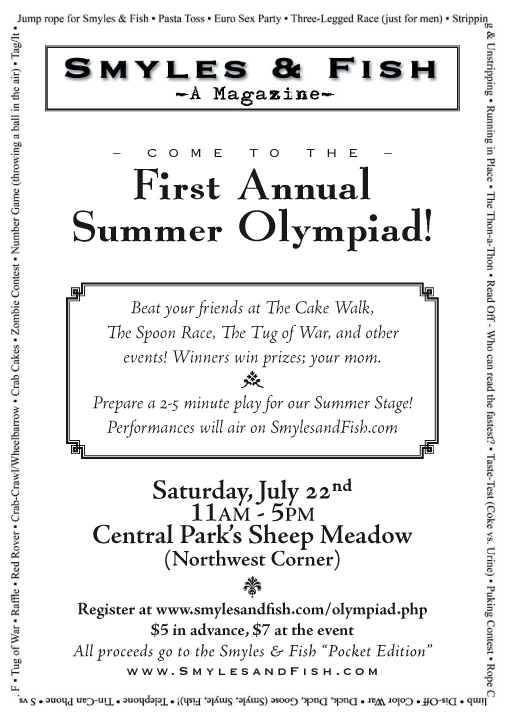 Friday, July 7th, 2006
Smyles & Fish takes a good hard look in the mirror.
Tuesday, July 4rd, 2006
Stevey from marketing slain in duel.
Monday, July 3rd, 2006
Smyles & Fish prepares for duel at sunrise back of West Building 4.
Friday, June 30th, 2006
Smyles & Fish invents fireworks; demonstration scheduled in Madison Lounge next Tuesday, 3pm.
Wednesday, June 21st, 2006
Company softball game cancelled on account of sunshine. Please meet at 4PM in the West Auditorium for company musical theater auditions. Bring those spare gloves, sport!
Friday, June 16th, 2006
Bovine Break Room on floor 11 reported to improve company stomach per capita rating.
Thursday, June 15th, 2006
Smyles & Fish institutes 'Take your Cantaloupe to Work Day' in an effort to control scurvy outbreak.
Thursday, June 8th, 2006
Look for Smyles & Fish this Sunday at CLMP's Seventh Annual Literary Magazine Fair
Housing Works Used Book Café, 126 Crosby Street in Soho
Sunday, June 11th from 12-5 PM
More information can be found here.
Thursday, May 25th, 2006
Legal team representing Count Rockula undergoing restructuring, following allegations from the Secretarial Investigation Committee (SIC) implicating Frank Splick, Count Rockula's lead lawyer, in an affair with his client. The charges are confounded by additional allegations suggesting that Splick is the son of Rockula. An investigation is pending.
Saurday, May 20th, 2006
Smyles & Fish offends Kosher guest with own S&F Lobster wine at extravagant Smyles & Fish Day celebration in Sterling Ballroom, Building 9.
Friday, May 19th, 2006
Smyles & Fish declares Smyles & Fish Day; throws extravagant party in Sterling Ballroom, Building 9.
Tuesday, May 16th, 2006
Sign up to join the Membership Club. (Applications in Horizon Kitchen.)
Sunday, May 14th, 2006
There was no news on Saturday, May 13th.
Friday, May 12th, 2006
Alessandro in Legal trying to grow his hair long enough to put in a ponytail.
Thursday, May 11th, 2006
Another Subway Coupon Unhelpful, Late
Wednesday, May 10th, 2006
Franklin Burntight stuck in West Elevator in Smyles & Fish Building Seven for 19 hours straight with little more than a granola bar and apron.
Tuesday, May 9th, 2006
Friday, May 5th, 2006
Dan Churpus banned from Smyles & Fish Website.
Friday, April 28th, 2006
Soho20 Gallery Chelsea, New York City, 6:30-7:45 PM
An Evening with Smyles & Fish (Black-Tie Optional)
Videos from the event:
39 Cell Phones Ringing Inside an Art Gallery:
The final nail-biting moments of the raffle:
Photos from the event:
Thursday, April 27th, 2006
News section added to website.